The Suffolk Apprentice competition that has been running during 2019 to find a Suffolk entrepreneur, has now reached the final 4 stage.
The four remaining candidates will face 'daunting' interviews this Friday where they will be answering questions on their business plans from a panel of business experts.
Up for grabs is a great prize that includes the chance to win £5,000 plus a year's coaching from the Business Growth Coaches Network, all to help you make your dream a reality.
The final and winner is set to be announced in December.
A series of tasks supporting the community
The competition started in March with 14 candidates with this number being whittled down as a series of tasks were undertaken.
The tasks, which were all focused around supporting the local Suffolk community, have included:
Acting as business consultants to Future Inclusions to look at ways they could increase their regular income and reduce their reliance on grants
Working with Greener Growth to plant up a natural garden area at Riduna Park, Woodbridge. The task included buying the plants within a tight budget and planting up the beds for the long term - they did a great job!
Completing a promotional video and social media clips for SARS at Woolpit - these are now live on their social media and website.
Working with Age UK Suffolk to run an event for the elderly including prepping the venue, entertainment and food.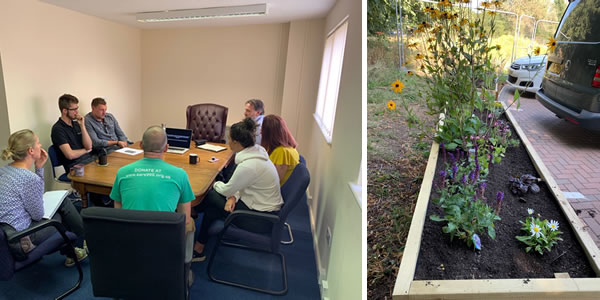 ABOVE: SARS board meeting and a Greener Growth planter
Suffolk charities the real winner
"The Suffolk Apprentice has been great fun to be involved with and we are delighted with the fabulous ideas and support generated for the local charities by the candidates, making a real difference in our community."
Beverley Gedge, Operations Director, Compass Point Recruitment
Compass Point your local recruitment experts
From our Bury St Edmunds base, since 1995, we have built excellent local recruitment expertise working with clients and candidates across the whole of East Anglia region including Suffolk, Cambridgeshire, Essex and Norfolk.
Quick links